Value of registered cattle shines through in tough times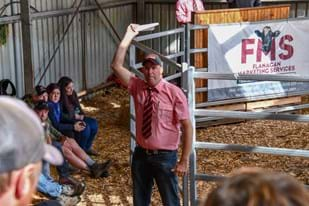 In what has been a challenging selling season for some time now three recent sales have bucked the trend, underlining the value attached to Registered cattle.
The Ebony Park Holstein 1st Stage Dispersal Sale topped out at $3,400 (Ebony Park Aftershock Toni), with several lots selling above $2,500. Selling agents Dairy Livestock Services and Charles Stewart & Co reported the following averages – Milking Cows & Heifers av $1,670 Joined Heifers av $1,640 Spring calving Cows av $1,236 Unjoined Heifers av $1,257.
In the same week the Eagle Ridge Holsteins sale topped out at $8,000 for the EX 93 Red cow, Eagle Ridge Contender L Polka. Dairy Livestock Services report there was very strong demand all the way through the 6 hour sale with 299 lots sold for an average of $2,365 and gross of $707,135.
The full reports on both sales can be accessed at Dairy Livestock Services.
Held just a few weeks earlier, the Panatana Holsteins sale topped out at $5,000 for Panatana Security Lilibet 2nd, with 193 head grossing $392,850 to average $2,035 reports selling agents Flanagan Marketing Services and Elders. You can access the full sale report here.
Graeme Gillan, Holstein Australia CEO, says: "Among many things, registration is really an investment in your herd. These recent registered herd sales really reinforce that point.
"All three of these breeders have registered animals over the longer term. Registration though is not just a benefit to be realised when you sell. The most recent herd recording statistics from DataGene show that registered Holsteins produce over 860 litres more milk per year than grade animals, so the added value is there all the way down the line.
"For Panatana, Eagle Ridge and Ebony Park, registration has been part of a planned and effective management system, and we find that the two often go together."
For more information on Holstein Australia's Registration, Classification and Genomics services refer to our website or contact the office on 03 9835 7600 or email enquiry@holstein.com.au.