UK Exchange 2018 finishes on a high for Amabel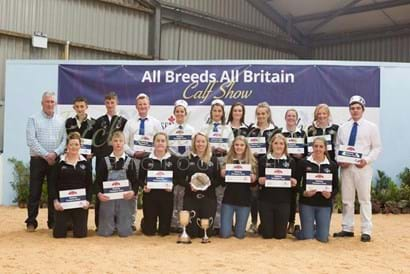 Amabel Grinter from Muckatah, Victoria, completed her 2018 Holstein UK Exchange in style as part of the Lancashire team that won top showmanship & calf teams and overall top team for eighth consecutive year at the All Breeds All Britain Calf Show.
Reflecting on her time in the UK, Amabel says: 'All good things must come to an end. My final weekend as part of the Lancashire team at the All Breeds All Britain Calf Show was fantastic. It was also great to catch up with everyone who I have met and stayed with over the last month.
Apply for the 2019 Holstein Australia Youth UK Exchange here
'Never having been involved with showing cattle before I have learnt a lot in the last month. I have gained great respect for those who do put the extra time and effort into getting their cow or calf perfect for show day. I have witnessed the absolute passion, sweat and tears involved.
'I cannot express my gratitude enough for how welcome I have been made to feel wherever I have stayed.
'The exchange has given me the opportunity to experience a lot of firsts; first time leading an animal, first time clipping a cow, first time catching a cow poo in a bucket, first time milking in a breast parlour, and I got to visit Stonehenge, which was on my wish list.
'My favourite part of the entire experience was meeting so many amazing people who were more than happy to welcome me into their families and answer as many questions as I had.
'I really want to thank everyone, particularly Holstein Australia and Holstein UK, for making this experience and the Exchange possible. It really has been a once in a lifetime opportunity.'
Look out for an article on Amabel's UK trip in the next issue of The Journal. Having finished the Holstein Australia UK Exchange, Amabel is travelling back to Australia via America where she will be working on a number of dairy farms.