Princess - Genomic PTAT magic shines through in Australian maternal line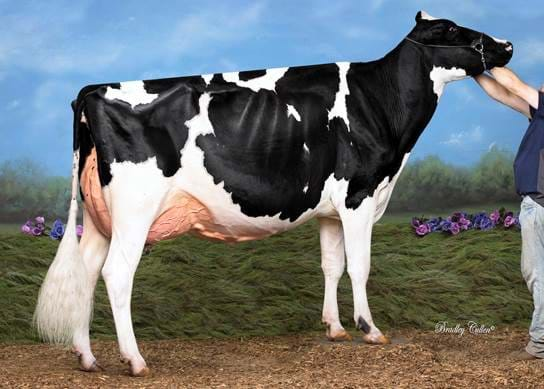 It's a story of a different kind of royal family, proving type-leading success is about to take the Holstein world by storm.
Eclipse Milio is a Wilt Emilio son from Eclipse Octane Princess 13 (VG85 as 2YO with VG86-MS) x VG88 Atwood (2nd lact) x EX90 Damion x VG89 Goldwyn x EX95 Outside.
He shot to the top in the April proofs with +4.59 PTAT along with the ability to produce breed-leading udders at +3.39 UDC and +4.96 Rear Attachment Height, +4.76 Fore Attachment and +4.56 Rear Width.
"To breed the number 1 type bull in the world, it's just huge," breeder Richard Hull of Eclipse Genetics said.
The world's new number 1 type bull hails from the Windy-Knoll-View Princess family, tracing back to Windy-Knoll-View Pledge (EX-95), Unanimous All-American 5-year-old 2007.
"There's been that many number ones out of this family on type it's so pleasing," Richard said.
While Richard has been fortunate to work with and breed from some of the biggest names in cow families, he says the Princess line continues to top them all.
"There's been a couple of good ones, but none have hit the high tops of what this family is doing genomically. There's been that many number 1's on type out of this family it's not funny," he said.
And breeders across the world will be able to tap into this proven family when Milio becomes available early next year and Firstcrush, Royalcrush and Blackwood hit the market in the coming months.