Redmaw Holsteins harnesses the power of Comestar to hit the top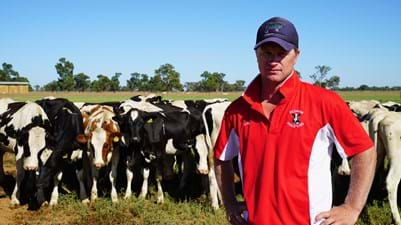 The May 2019 proof run of top new heifers saw Redmaw Holsteins (Jared & Courtney Ireland) take out the top two positions with Redmaw Percy Lautamay 2425-ET (355 BPI) and Redmaw Percy Lautamay 2428-ET (340 BPI).
Redmaw Superhero Lautamay 2429-ET (306 BPI) and Redmaw Percy Lautamay 2426-ET (297 BPI) came in at number ten and twelve respectively on the same list.
Three of the four new Redmaw heifers share the sire S-S-I Exactly Percy-P-ET, and all can be traced back to Comestar Laurie Sheik, with this legendary family now performing strongly in what is already one of Australia's highest BPI herds.
The Comestar Laurie Sheik family, stretching back over 30 years, is renowned for breeding both list leading high genomic value cows as well as high type, show winning cows.
With Redmaw Holsteins focus firmly on the former, Jared Ireland says: "To take out the top two spots plus another two in the top 20 is obviously great news for us. I guess of the four heifers the one we have big plans for is Redmaw Percy Lautamay 2428. She's confirmed PP Polled, A2/A2, so we'll be embarking on an intensive flush program with her."
The other breeder to feature prominently in the May top 20 new heifers list with six entries is Illawambra Holsteins (Trevor and Leah Parrish) with Illawambra Jeronimo Lucky 3816 (No.7 / 312 BPI), Illawambra Jeronimo Maddy 3811 (No. 8 / 309 BPI), Illawambra House Jose 3803 (No. 11 / 297 BPI), Illawambra Jeronimo Jose 3818 (No. 13 / 292 BPI), Illawambra Jeronimo Donna 3813 (No. 16 / 281 BPI) and Illawambra Skywalker April 3796 (No. 17 / 279 BPI).
Four of the six Illawambra cows, along with Glomar Jeronimo Lady 6556-ET (No. 6 / 313 BPI) and Glomar Jeronimo Lucky 6557-ET (No. 19 / 277 BPI) were sired by top bull from the middle of last year, Jeronimo.
Rohan Butler, Holstein Australia's Genetic Services Manager, says: "I think it is safe to say that over the coming months we'll see more Jeronimo heifers coming in towards to the top of these lists. It's also great to see that one of the Holstein world's greatest cow families of recent years is set to gain a firm foothold in Australia through Redmaw's planned breeding program."
Click on the highlighted text to access the May top 20 lists for top heifers since 30.6.2017, top new heifers at May 2019 and top cows.
Redmaw Percy Lautamay 2425-ET goes straight in at number 3 on the top heifers since 30.6.2017 list and number 20 on the top cows list. Vala Quantum Nady-IMP-ET-PF (370 BPI) and Vala Bandares Boliana-ET (369 BPI) sit at the top of the top heifers since 30.6.17 list; Rengaw Manoman Janea-ET (390 BPI) and Glamorgan Roumare TIFF-ET (388 BPI) head the top cows list.