June Proof release: Elite animals hiding in the herd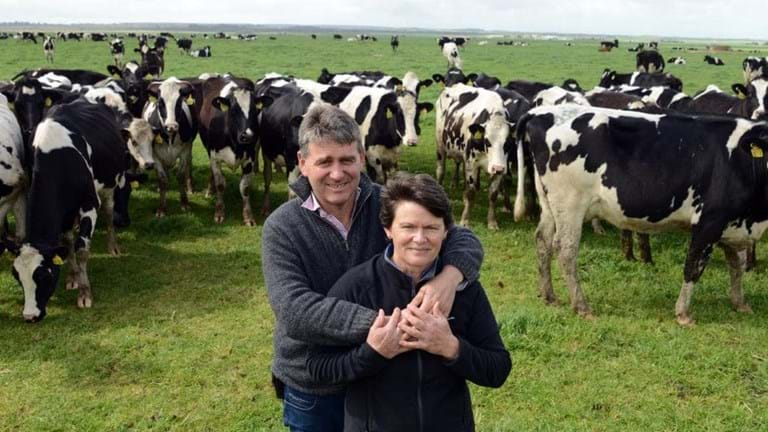 Every month Holstein Australia publishes two lists of genomically tested registered females, one being the best females with a first genomic breeding value, the other being the top list of all genomic tested females.
Over the last two years it has been rare to see movement on the top all tested list. On face value that might not be a big deal, but it actually flies in the face of genetic theory. If we are getting things right the newest generation of heifers should be replacing the older cows on this list, as has happened this month.
Welcome Donovans Griff 21017, from the Mann family's 2,000+ strong Donovan's Dairy herd in Wye, South Australia, who comes in at number 9 on the overall top cows list, and goes straight to number 1 on the new heifer list, and by quite some margin with a BPI of 342 compared to 317 for the second ranked heifer.
Holstein Australia's Genetic Improvement and Research Manger, Rohan Butler, believes that Donovans Griff 21017 could be more the rule than the exception.
"While the top cow list has been has been very consistent for some time now, all things being equal, genetic advancement should see daughters performing better than their mothers. I think you'll find that there are what I would call elite animals out there, we just need to find and test them."
So why has there been so little movement on this list over the last two years?
Until this month the youngest animal in the top 10 was three years old and average age of the top 10 cows was just over 4.5 years. Donovans Griff 21017's entry, with a birth date of February this year, lowers this to just less than 4 years.
There are a few things contributing to this the main thing being that additional lactation data has been added to the genomic and parent average contributions to the ABVs. In simple terms, when you add data to an ABV you get additional reliability, the breeding value becomes more accurate, and the system also becomes more confident allowing breeding values to go further from the average.
Of course additional variation can go both ways but when these top end cows perform well they move up. Witness Purnim MVP Shasnah-ET who has moved up nine places (and 30 points overall BPI) from just outside the top 10 to #2 cow behind long established #1 Glomar Goldwyn Lucky 4319-ET.
"To get young heifers to be better than their mothers, we need bulls that are also as good if not better than the female side of the pedigree," says Rohan.
"The calves we are seeing born now are the result of the bulls that were available 12 months ago and born 12 months minimum before that. The average of the top 10 bulls that fit this criterion is 347 BPI. Even when joined to the top cow at 392 the parent average is 369. Which means significant punch above parent average is require to beat mums number.
"But we might be at the point where we can expect to see more change in the top cows. The addition of lactation data will always see a few heifers rise up the list (and some fall) this is a constant. More importantly, the bulls are catching the cows.
"We now have a top bull at above 400 and the average of the top 10 is 350 so that group of elite bulls is slowly catching up on the elite cows. This coupled with increased rates of genomic testing will soon see heifers with parent averages in the range of 350-370 being tested. Once tested some of these may go up on their parent average and knock some of the older cows off.
"Donovan's Griff 21017 might just be the start of a stampede," says Rohan.