Holstein Australia member judges in the UK, and set for WDE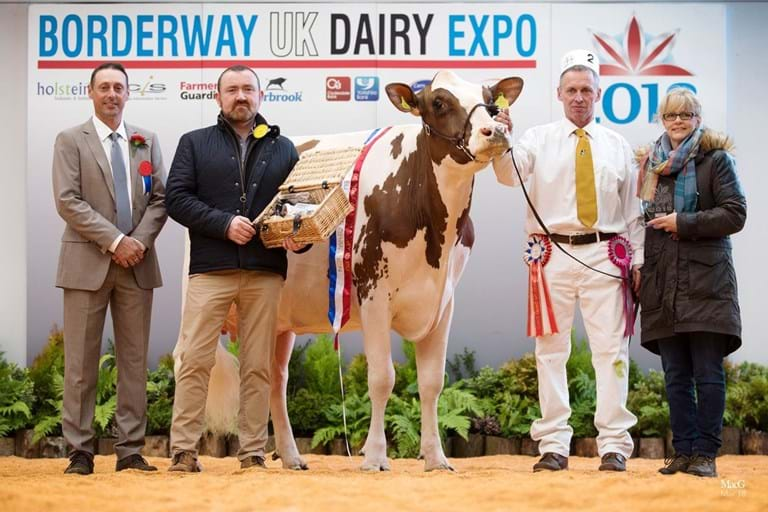 Holstein Australia member Dean Malcolm recently judged at the Borderway UK Dairy Expo at Carlisle in the lead-up to his associate judging role at the World Dairy Expo (WDE) at Madison in October.
Dean has not judged a great deal within Australia to date, but after passing the US Holstein judging school at the Southern Nationals in Silverwater (OKC) in mid-2017, he received the two international appointments for 2018.
Dean judged the Red & White Holsteins, the Jerseys, and the Milking Shorthorns at last month's Borderway UK Dairy Expo. "It was an amazing show," Dean said. "It is headed by Glyn Lucas, who understands the cows and the breeders, and he has assembled a like-minded team."
The Red & White Holstein Champion was four-year-old Wiltor Chipper Rosie Red, sired by Sandy Valley Chipper, who was bred and owned by David and Claire Jones, from Monmouthshire. She is pictured with (L-R) judge Dean Malcolm (Australia), Stuart Maclennan, and David and Claire Jones.
For me, the Champions in the three breeds I judged were outstanding," Dean said. "In particular, the Red & White Holstein and the Holstein Champions (judged by Selwyn Donald, New Zealand) were both world-class. The individual Champions in both breeds came from great cow families, which all made sense."
Borderway UK Dairy Expo's Glyn Lucas said that exhibitors appreciated Dean's manner in the ring, his explanations, and said they'd like to see him back again.
Madison bound
Dean will be in the second chair to Canadian cowman Callum McKinven, of Canton de Hatley (Québec, Canada) for the Ayrshire show at WDE in Wisconsin, from October 2-6.
The pair had spent time working alongside one another as part of the judging panel at the 2017 New Zealand Dairy Event, and Dean is the sole member of the 16-judge panel who doesn't call North America home.
All WDE's lead judges are peer-selected. Associate judges are then nominated by the lead judges. WDE judges will collectively place more than 2300 cattle that are expected to be shown at the Wisconsin event.
"I was surprised to be even considered by Callum," Dean said.
"But when he rang, and asked me, I had no hesitation in answering the question. It's an amazing opportunity and I'm looking forward to it. I feel very privileged to have the chance to work with such a great cowman."
Callum said that Dean was a logical choice for him.
"I saw Dean judge in New Zealand, and I felt he had a great eye for the way he looks at cows and heifers, and that he was very easy to follow as a judge," Callum said. "He has certainly proved himself as a great breeder with the incredible success he has had with Bluechip, and I felt that he sees cattle in a very similar way to me.
"He also has a great ring presence when he is handling his placings and reasons."