Holstein Australia appoints National Youth Coordinator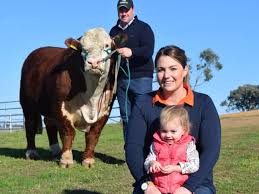 Holstein Australia is delighted to announce the appointment of Katelin Davies as its National Youth Coordinator. Katelin is the current Events and Youth Coordinator for Hereford Australia.
Originally from Calgary, Canada, where her family owns a Hereford stud, Katelin has many years experience within the livestock and youth environments, including with Canada's beef youth movement and the Canadian Hereford Association. She and her husband Ben own the Wild Bear stud on South Australia's Fleurieu Peninsular.
Commenting on her appointment to this new position, Katelin says that effective youth programs can play a major role in attracting, developing and retaining young farmers in the dairy industry.
'We've got so many young kids right across Australia who are passionate about the dairy industry. Youth programs and events not only increase their farming and industry knowledge, but as these kids get older, they provide much needed networking and social opportunities with the dairy industry at its heart, increasing the participation of young people in their communities.
'We also need to focus on developing the leadership capabilities of young people, and keeping our young and emerging dairy farmers abreast of new technology and genomics to ensure that they can go on to develop more sustainable farming systems into the future.'
Graeme Gillan, CEO of Holstein Australia, says: 'We've been looking for a National Youth Coordinator for some time now, and I am delighted that Katelin has accepted the role. I am a firm believer that well run youth programs are the key to the future of our industry, and we have an obligation to our members, Holstein breeders and to the breed itself to ensure that we do everything we can to secure that future.'
As part of her new role Katelin will be overseeing the return of the National Youth Camp for 16 to 21 year olds at Sale, Victoria, in January. Registrations for All Breeds National Youth Camp will open during the first week of November 2018.