From Appendix Register to elite animal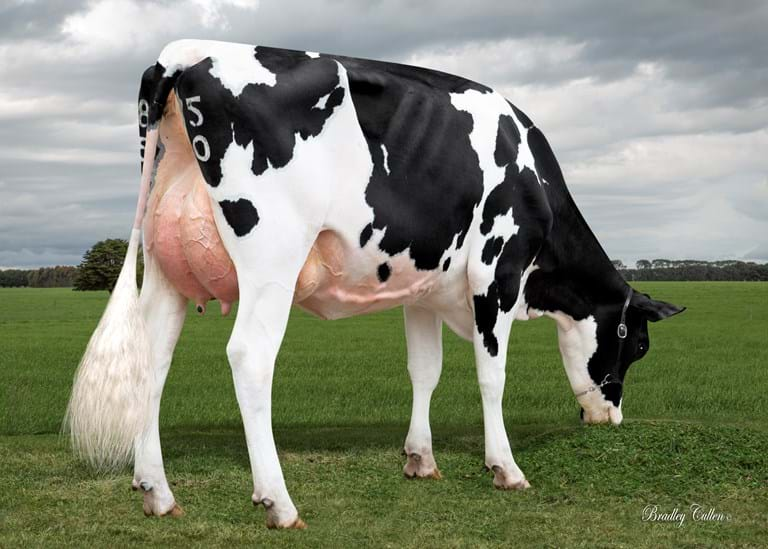 Numeralla Delta 1427 6160, owned by Liam Ryan, Numeralla Holsteins, tops the March 2019 Holstein Australia list of best young females with their first genomic breeding value with 351BPI, with another four Numeralla cows featuring on this list. She also goes straight onto the list of all genomic tested females (irrespective of age) at number 12.
In at number two on the new genomic females list is Emu Banks Chairman Jennifer 9710-ET, owned by Bryan and Jo Dickson, Emu Banks Holsteins, with her 347BPI also putting her onto the all genomic tested females list at number 14. Another six Emu Banks heifers also featured in the top 20 new young females list, including Emu Banks Humblenkind Lucky 9704-ET at number 4, who is the grand-daughter of Glomar Goldwyn Lucky 4319-ET who is number 2 on the all genomic tested females list.
"Our focus at Numeralla is on functional, high production cows," says Liam Ryan. "We've got what is a commercial herd focus but with some pretty elite production animals. Back in my teens we had two of the highest production dairy cows at the time just down the road at Devondale Holsteins. We bought an animal from that herd and I persuaded my dad we should start registering. We started with just one heifer under the appendix system.
"This is the first lot of genomic testing we've done – over 100 animals in total. I knew from our herd testing we were on track with our breeding program, but we've gone down the genomics route to provide confirmation of that, and also now we've got the farm really established, to help market our herd. I was expecting our genomics results to provide the confirmation we were looking for, but I wasn't expecting to get 5 of the top 20 new genomic females. Really pleased."
The other top entrant, Emu Banks Chairman Jennifer 9710-ET is the latest progeny of long-established Holstein Cow family, the Jennifer's, and also goes straight into the all genomic tested females list at number 14, joining Emu Banks Chairman Jennifer 9657, which sits at number 6 on the same list.
Bryan Dickson of Emu Banks says: "We've genomically tested all our Holsteins from the first year it was available, and its worked for us as a breeding and selection tool, science rather than subjectivity. I think we tested something like 600 heifer calves last year. In simple terms it helps with decisions, makes things really clear cut.
"Both our cows in the all genomic tested females list were sired by Chairman, and their dam was sired by our own, and what was the number 1 bull at the time, Emu Banks Christmas. The degree of accuracy you get with genomics continues to improve and I would say is now proving to be better than the sire pathway."
Holstein Australia CEO, Graeme Gillan, says: "I think it's a case of the cream rising to the top, and the breed continuing to progress. The top heifer this month is over 30BPI points higher than in the February run. We also now have a new herd in the system, with its genetic potential clear for all to see.
"We're also seeing increasing numbers of Holstein Australia members using genomics to make - no pun intended - black and white commercial decisions to progress their herds, whether they are breeding for type, production or health traits."
The top five new genomic females this month are Numeralla Delta 1427 6160 (351BPI), Emu Banks Chairman Jennifer 9710-ET (347BPI), Calister Superhero Floss 7056-ET (304BPI), Emu Banks Humblekind Lucky 9704-ET (294BPI) and Illawambra Superhero Shower 3777 (290BPI).
The top four cows on the March list – Vala Quantum Nady-IMP-ET, Glomar Goldwyn Lucky 4319-ET, Wilara Silver Kalidascope, Glomar Chairman Lady 6548-ET – remain the same as on the February run, with Wilara Perseus Jo (363BPI) moving up one place to number five.