Easter school holiday date for National Dairy Youth Camp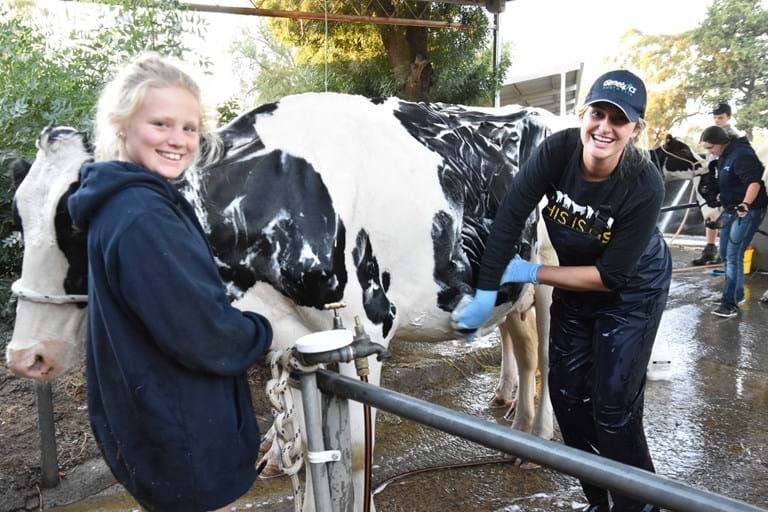 At today's Holstein Australia Victoria Youth Challenge Trials at International Dairy Week, Holstein Australia CEO, Graeme Gillan, announced that the National Dairy Youth Camp will take place during the Easter school holidays in Sale, Victoria, from the afternoon of Friday 12th April to Tuesday 16th April. To download the application form click on the green text in this sentence or visit the Holstein Australia stand at International Dairy Week.
Organised by Holstein Australia on behalf of the wider dairy industry, the all-breeds camp is open to all young people between the ages of 16 and 21 years, with no previous dairy experience required.
"For many years the National Dairy Youth Camp was part of the fabric of our industry. It is such an important initiative, both for the young people who will attend and for the future of our industry," says Graeme.
"When I look at our youth exchange program with Holstein UK, there is a huge amount of talent, passion and commitment to the dairy industry from our young people. The intention of the camp is to harness this enthusiasm and enable the people who will be the future of Australian dairy to get a holistic view of the whole industry, forge new friendships and, of course, have fun at the same time."
The camp will take place from the afternoon of Friday 12th April until lunchtime Tuesday 16th April at the Sale Showgrounds in Victoria. Camp activities will include animal health, husbandry, showmanship and judging sessions, plus seminars on AI, breeding programs, marketing and dairy career pathways. A number of industry experts will also be on hand, with a classification demonstration and mock auction taking place, as well as a visit to the Maffra Cheese Company and evening BBQs and events.
"The camp's real focus is to support young people to develop their leadership and teamwork skills and demonstrate the range of options available to those considering pursuing a career in the industry. Milking cows is important, however there are a vast range of career avenues, from science, breeding and AI through to working on the land," says Graeme.
Applications are now open for the camp. Application forms are available from the Holstein Australia stand at IDW or can be downloaded from the Holstein Australia website. The cost of the camp is $300 + GST and includes all accommodation, food, insurances and camp activities. A sibling discount applies where there is more than one attendee from the same family.
A number of dairy industry bodies and companies, including ST Genetics Australia, WFI, Worldwide Sires Australia, ABS, Semex Australia and Genetics Australia, have thrown their support behind the camp, with more sponsor announcements expected soon.
Any queries should be directed to the camp organiser, Mandy Pacitti at mistybrae@bigpond.com or on 0409 547 202. Mandy will be on the Holstein Australia stand at IDW all week. Apply here.