All-European Championships 2019 Belgium trip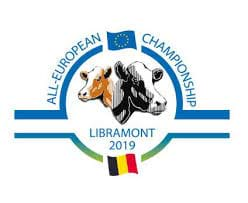 Have you ever wanted to visit Holstein competitions and breeders in Europe? Now could be your opportunity.
Holstein Australia member Declan Patten, Cutting Edge Genetics, is organizing a two week trip to Europe next year taking in the All-European Championship in Libramont and visits to breeders in Belgium, Germany and Holland. The trip leaves Melbourne on 9 April and returns on 21 April 2019.
The European Championship is the most prestigious Holstein competition in Europe. Taking place every 3 years, nearly 20 countries take part in this event, which will be held on 12 and 13 April 2019 at Libramont in Belgium, in the heart of Europe.
The trip is being organised at cost for Holstein Australia members. It includes air travel, ground transportation in Europe, a full program of farm visits and events, hotels (minimum 3 star based on double occupancy / single supplement option available), breakfast, buffet lunches and entrance fees. Travellers will be expected to make their own way to Melbourne airport prior to the trip, arrange their own travel insurance and cover any personal costs plus supper and drinks while away.
Cost per person is $5,500 AUD.
You can download the EU Libramont Show Trip 2019 itinerary by clicking on the highlighted text in this sentence. All enquiries from Holstein Australia members should be directed to Declan at declan.patten@cuttingedgegenetics.com before 31 October 2018.
Arrangements for the trip, which is subject to a minimum of 15 participants, will be finalised during November 2018.