A Quarter Century History of Holstein Australia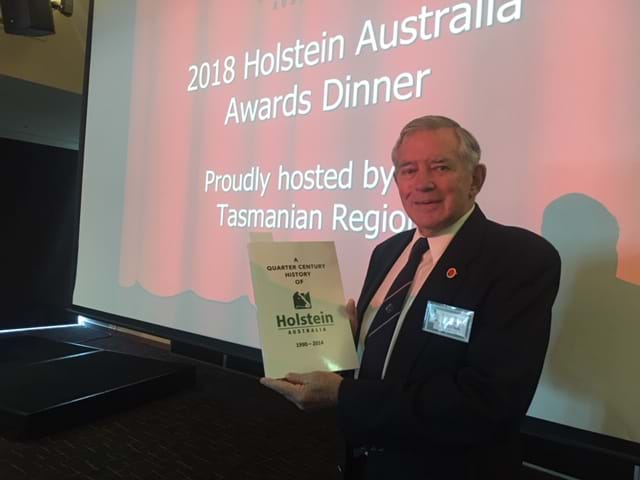 The Board of Holstein Australia are delighted to share with Holstein enthusiasts the 25 years from 1989 through to our 2014 Centenary in Gerald Boyd-Clark's book, A Quarter Century History of Holstein Australia, launched at the National Awards Dinner in Hobart last month. The book is now available to order direct from Holstein Australia.
The book was written by Gerald Boyd-Clark during 2018 after accepting the offer to compile the book that now records the most recent history of the Association leading up to the Centenary in 2014. Gerald held the position of Executive Officer from the mid-1980's to the early 2000's and was instrumental in overseeing some of the more significant governance and administrative developments that helped shape the Association into what it is today.
The 25-year history looks at how Holstein Australia has developed between 1989 and 2014 and contributed to the on-going development of the Holstein cow and the Holstein Community.
Gerald Boyd-Clark says that he felt it was so important that this history was recorded before it was lost to the mists of time.
"Without some record of the 25-year period leading up to the Centenary Year, many hundreds of people who had contributed so much to the Holstein Breed and the Association, would fade from memory and be forgotten.
"This includes not only those members who committed themselves to breeding better Holsteins and promoting the Holstein breed at shows and competitions throughout the country, but also those selfless and dedicated members who served the Association in a range of honorary capacities at Sub-Branch, State and National level – not only for a year or two, but often for 10 to 20 years and more," says Mr Boyd-Clark.
A Quarter Century History of Holstein Australia can be ordered through our website for $25 by downloading and completing the order form and sending to enquiry@holstein.com.au or posting to Holstein Australia, AgriBio, 5 Ring Road, Bundoora, VIC, 3083.
"I hope this book will help to keep alive many images of great Holstein cows, the people who have nurtured the Holstein breed in this country – and those who continue to do so in this next quarter century of our Association's history," says Mr Boyd-Clark.