A catch-up with Bruno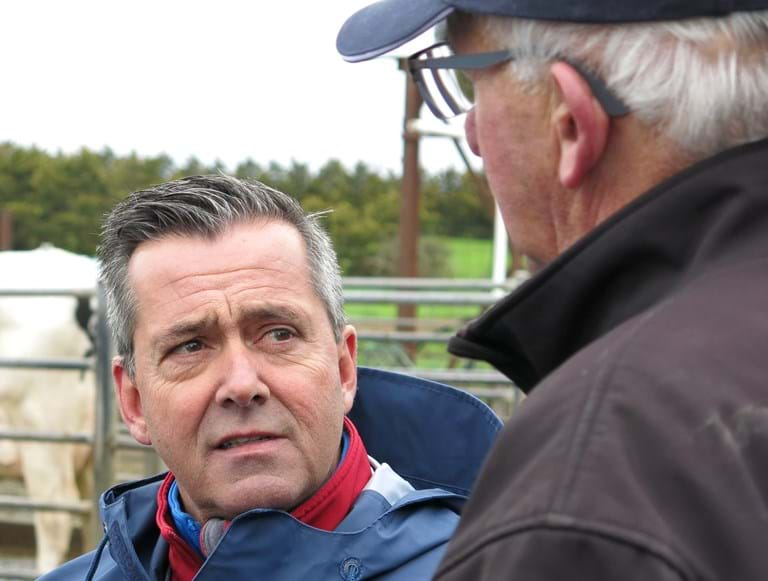 Holstein Canada's National Coordinator for Classification, Bruno Jubinville, recently spent two weeks in Australia working with Holstein Australia's classification team and updating the Board and Breed Development & Conformation Committee on changes to the Canadian Classification System.
In what was a busy few weeks, we managed to track him down at Alnor Holsteins, just north of Ballarat, where he put the Board and BDCC members through their paces before a great lunch provided by Lynette Greenwood and family.
Bruno's time down under certainly made quite an impression on him, as did the longevity and quality of our Australian Holstein cow, and some of the marked differences between dairy farming in his native Quebec and here in Australia.
Welcome Bruno and thanks for talking with us. So after two weeks visiting a range of dairy farms in South Australia and Victoria, what would you say were some of the major differences in dairy farming between Australia and Canada?
The way of farming, the mentality, is very different. I was surprised to find all the cows in the paddock all year round rather than in sheds. I have to say the cows look very happy here! I would say that in Australia, and partly because of the outdoor life of your cows, you have bigger stronger animals with more capacity.
Longevity of animals is also very important to Australian farmers I would say. And herd size is much bigger I think, maybe because you don't have to build so many sheds to house your animals?
You mentioned this morning that you've been amazed by quality of Australian Holsteins at older ages. Can you elaborate on this for me and is this a marked difference between the Australian Holstein and the Canadian Holstein?
Yes, yes, it is a big difference. In Canada I think an older cow would be on 6 or 7 lactations, here I have seen cows, and cows of very high quality in terms of conformation as well as production, that have been on anywhere from 11 to 14 lactations. Just incredible. And the size of the cows, the capacity, just so impressive.
I commented on this to Graeme (Graeme Gillan, CEO Holstein Australia) and he took me to Western Victoria to see Fairvale Morty Lady 51, your highest classified cow. She is now one of my favourite cows. One of the best, if not the best, for her age anywhere in the world. Such a powerful animal, and incredible cow. I tell you we drove an extra 250km at the end of a very long day to see her, but to have the pleasure of seeing cows like this; it made it feel like a very short day, not a long one.
I have been scoring cows for 20 years and I don't think I've ever seen this mixture of quality and age of the animal.
Why do you think there are such marked differences between cows in the two countries? Is it down to environmental factors? Is it down to different breeding objectives? Is it down to the differences in the way we farm in our respective countries?
It is all of that I think. Certainly environmental factors. Australian Holsteins might just have the best feet and legs of any Holstein cow. All that time outside, walking to and from the dairy up to three times a day. It's good. Yes it is breeding for this, but mainly environmental factors and, essentially, exercise. I think in Canada we have more problems with feet and legs, maybe in as much as 60% of our cows. We need to trim hooves regularly. Managing cows in stalls is I think much more difficult.
Are the cows happier? They may be. If happier cows produce more milk, then I would say yes. Here, in some of the Registered herds I have seen, it is between 9,000 and 10,000 litres or more.
Because of environmental factors in Australia, herd management is very different too. Maybe the biggest difference is walking? I don't know, but I tell you, I think it is clear that cows need to walk!
More of a global question. With the increasing acceptance and adoption of Holstein genomics around the world, is this having an affect on Classification, and on the way the class system will evolve over the next few years in your opinion.
We've seen classification numbers increase by about 5% in Canada, and I think this increase will continue. Breeders trust the classification system, and it has value for them. Cows that classify well produce more milk, are healthier, easier to manage and cause less problems and are worth more.
I think many farmers who are investing in genomics also classify a lot of cows. They are using conformation to confirm genomics, and I think one result of this is that we have more heifers to classify.
Fortuitously, I understand you have visited some of our dairy regions that overlap with wine regions. How does our Australian wine compare to the wine you drink at home, and do you have a favourite?
Of course I drink Australian wine at home, red, Shiraz, sometimes Jacob's Creek. But here I have found some incredible Shiraz wines; in fact I have four bottles packed to take home with me. The price here is also very good, with all the tax included in the price so you know what you are paying. I will be back in Australia for the cows, and the wine!
Final question. Has the strong sense of community and family amongst Australian Holstein breeders made an impact on you? Would you say this is similar or different to Canada's Holstein community?
Well look at today. Lynette (Greenwood) has looked after us, the Holstein Australia Board and BDCC all day, with an amazing lunch too. There is something very special with Australian breeders. Not only very friendly, but a real sense of respect for each other, a sense of warmth. I have felt welcomed wherever I have been, and I do feel like I am now part of the Australian Holstein community, and will be welcomed back.
Many thanks for talking with us Bruno and we do indeed look forward to welcoming you back in the not too distant future.
Thank you.